Visiting Carlsbad this Summer?  Are you looking for great ideas on places to explore?
Carlsbad home of Lego Land also has many Lagoons, Nature Trails and Hiking Paths that are great to explore and they do not cost anything but you can learn so much.
Did you know that Hosp Grove Trail was planted with eucalyptus trees years ago to provide wood for construction of the rail lines??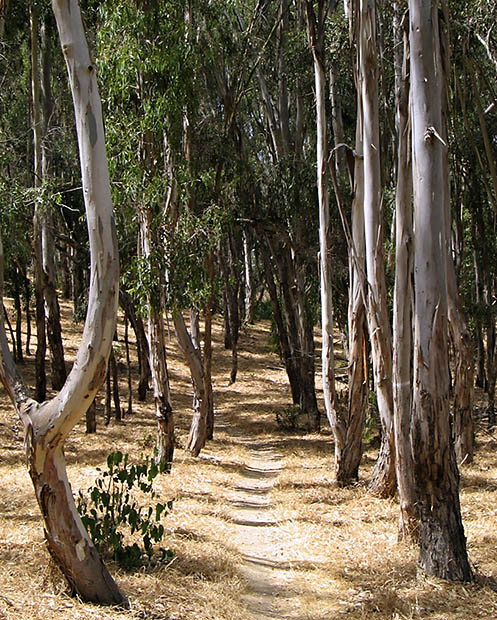 Located in north Carlsbad, this trail is one of the most extensive in the citywide trail system. It winds through a huge grove of mature eucalyptus trees planted many years ago for the railroad industry with the intention for the wood to be used in the construction of rail lines. However, it was determined that the wood was inferior to other varieties and not harvested for that purpose. Years later the city acquired the property and it is now enjoyed by hikers, picnickers, and nature enthusiasts seeking respite from the hustle and bustle of city life. The unpaved trail does climb to more than 100 feet in elevation and offers great views of the adjacent Buena Vista Lagoon and the Pacific Ocean.
Buena Vista Lagoon is a 223- acre Wetland Habitat with Walking Trails and a Buena Vista Lagoon Audubon Nature Center which offers guided nature walks.
Buena Vista lagoon edges are dominated by narrow and broad-leaf cattails, spiny rush and bulrush. A small salt marsh area includes pickleweed, marsh rosemary, and alkali weed
San Elijo Lagoon is one of the few remaining Coastal Wetlands in Southern California, there are over 7 miles of trails providing great hikes or strolling and enjoying the Bird Watching.  There is also Nature Center that provides Interactive Museum Exhibits.
San Elijo Lagoon Ecological Reserve is located in north San Diego County, between the cities of Encinitas and Solana Beach, extending inland to Rancho Santa Fe.
Explore a 1,000-acre reserve, home to hundreds of species of unique plants and animals
Carlsbad State Beach, also known as Tamarack Beach, stretches from the the warm water jetties, just south of Tamarack Avenue, to Frazee Beach, near Carlsbad Village Drive.
The Tamarack Beach Resort is located right across from Frazee Beach and the Carlsbad Seawall, a paved 4-mile walking path along the coast, extending from Carlsbad Village drive to Cannon. The seawall separates Carlsbad State Beach from Coast Hwy 101, where you can find people walking, jogging, and cycling.
Where are some of your favorite places to explore in Carlsbad?  We would love to hear some of your favorites.   There is so much in Carlsbad and Surrounding Areas to Explore and to Learn.  We hope you enjoy your adventure and hope to see you at the Tamarack Beach Resort
Related articles
To read about other places to Visit while staying in Carlsbad – Exploring North San Diego Coast Line